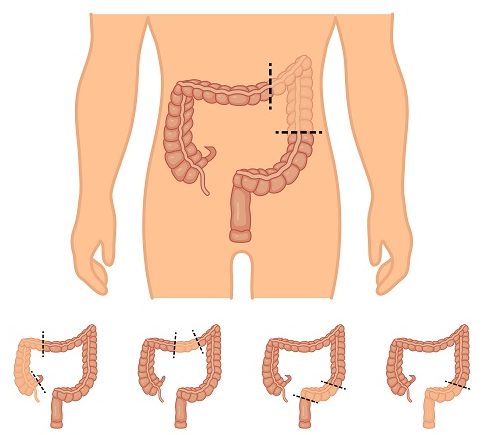 The colon is the tubular structure at the lower portion of the gastrointestinal tract. Also called the large intestine or large bowel, the colon helps absorbs water and holds waste until it is ready to be expelled. A colon resection is usually the removal of a part of the colon, although occasionally the entire colon requires removal. There are a number of conditions that may require a colon resection:
Colon polyps or mass
Colon or rectal cancer
Diverticular disease
Inflammatory bowel disease
Volvulus or twist
Gastrointestinal bleeding
Bowel obstruction
Most colon surgery can now be performed laparoscopically. This allows the surgeon to perform the procedure through several small incisions instead of one large incision. There is less pain and scarring, the hospital stay is usually shorter, and the recovery is much quicker with the laparoscopic technique. This technique is now used for most all types of conditions requiring colon resection, including colon cancer. In recent studies, this technique has been found to be equivalent to the open procedure in the oncologic treatment of colon cancers while offering all the benefits of a laparoscopic approach.
The work-up for colon procedures typically includes a colonoscopy or barium enema, as well as the standard preoperative medical evaluation. Additional work-up may be necessary depending on the condition. We will work closely with your gastroenterologist or primary care physician to complete the work-up. A special bowel-cleansing regimen will be necessary to empty the colon and rectum prior to surgery. Please make sure to follow the surgeon's instructions carefully and contact us if you have problems taking the preparation.
We will be happy to talk to you further to see if you are a candidate for a laparoscopic colon resection.
Johns Creek surgery Center located in Johns Creek, GA, attracts patients from all over the metro Atlanta area and beyond including Macon, Sandy Springs, Alpharetta, Milton, Roswell, Duluth and Marietta, GA. Our board certified experts perform a variety of surgical procedures for patients in a comfortable, caring environment.