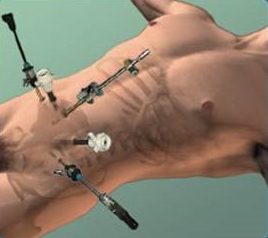 Minimally invasive (laparoscopic) procedures have become the common approach for most of the abdominal operations we now perform. This method utilizes several small incisions (1/4 inch to 1/2 inch) instead of one large incision. Fiberoptic video cameras and specialized instruments are then used to carry out the procedure through these small incisions. This approach offers many advantages over the standard open approach including:
Shorter recovery time
Less scarring
Less discomfort or pain
Faster return to normal activities
Fewer complications
Dr. William H. Johnson and Dr. Christopher J. Hart at Johns Creek Surgery specialize in minimally invasive advanced laparoscopic approaches to a variety of surgically treatable disorders, including bariatric procedures, Nissen fundoplications (for treatment of acid reflux), gallbladder removal, hernia repair, colectomy, adrenalectomy and many other complex procedures. Our surgery center is equipped with the latest in laparoscopic technology. Almost all of the abdominal surgery we perform is done in this manner. Your surgeon will be happy to talk with you to see if you are a candidate for a laparoscopic procedure.
Johns Creek Surgery, PC attracts patients from all over the Metro Atlanta area and beyond including Macon, Sandy Springs, Alpharetta, Milton, Roswell, Duluth and Marietta, GA. Our Board Certified experts provide carefully structured guidance for weight-loss, vein health and general surgery. Contact us today to schedule a consultation.